We Are Staying Covid-19 Secure in 2020. To view our 5 Steps To Safer Working Together, click here.
ISO 9001 Consultants, ISO 9001 Consultant, ISO 9001 Consultancy & ISO 9001 Consulting Services
ISO 9001:2015 Certification - How We Help You
RKMS provide ISO 9001 consulting that will save you time and provide you with an economical, accredited and certified quality system that will enable you to grow your business, reach more service users, an ISO 9001 consultant to improve profits and ROI – AS QUICKLY & COST EFFECTIVELY AS POSSIBLE.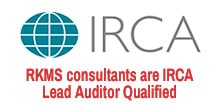 Economical Certification & 100% Success Record – the RKMS ISO 9001 consultancy works with all types and sizes of organisations in the UK to comply with ISO 9001:2015 and other standards successfully securing economical certification.
Making The Standard Fit Your Business – RKMS ISO 9001 consulting won't force you to change your processes because we establish how each business functions, then create a ISO quality management system (QMS) that works in "synch" with it.
Innovative ISSOSmart Cloud Management – RKMS ISO 9001 consulting provides clients with their easy to use, convenient tool to create and edit documentation.
System Supports Regulatory & Certification Bodies – ISSOSmart can be used with any British or ISO standard and fully supports UKAS, NQA, BSI, ISOQAR requirements.
Fast Track Implementation & More
– Save implementation time & money
– Get a quicker pay back on ISO 9001 investment
– Added value from experience with vast client base
– Reduced costs & improved productivity
– Better products & services
– Organise & plan QMS project actions
– Identify & document organisational processes
– Process improvements suggested
– Benchmarking practices recommended
Unique, Simple Cloud System
– Speeds up implementation times
– Reduces the workload on staff
– Build your own system in around 30 mins
– Or consultant partial or full system build
– Simple to use & fully compliant
– Add multiple standards eg ISO 9001 to ISO 27001
– Access via web browser, smartphone or tablet
– Staff training eg Auditor HABC Level 3 Qual
– Ongoing consultant support after certification
3 Straightforward Steps To Secure ISO 9001 Certification
Step 1 – ISO 9001:2015 Preparation 
a) Please send us an enquiry and an ISO 9001 consultant will get in touch within 24 hours to assess your requirements.
b) The ISO 9001 consultancy variables explored will include the:
– standard you wish to obtain certification for
– timescales required for certification
– nature of your organisation
– markets you serve and / or your key stakeholders
– size of your organisation eg number of facilities, locations and employees
Step 2 - ISO 9001:2015 Implementation
Systems & Working Practices Assessment
If fortunate to receive your instruction,

an ISO 9001 consultant will

contact you to arrange an initial exploratory assessment visit
We will meet with your organisation's team to understand your business
Organisational processes will be identified & documented
A variance analysis will be conducted to identify where you comply or do not comply with ISO 9001

ISO 9001 consulting g

uidance will be given on how best to integrate ISO 9001 within your current systems & working practices
If required, working with your team we will evolve processes suited to your organisation and make "benchmarking" recommendations
We will then begin working on your Quality Management System to bring it in line with the requirements.
Creating Your Quality Management System
Designated members of your team will be receive training on the use of the IssoSmart Cloud QMS Management system from an expert

ISO 9001  consultant

who will provide all the documentation needed to comply with the ISO standard or standards being targeted
IssoSmart includes a manual, user guide, procedures, forms & registers
Our ISO 9001 consultants will providing coaching on its practical use to enable your organisation to build its own system or let RKMS do all the work for you
When the RKMS ISO 9001 consultancy receives instructions to create the entire QMS, we work closely with your team, then plan, timeline & organise all ISO QMS project implementation actions
We encourage meaningful input from your implementation team that is so important in gaining "buy in" for the new system to ensure a smooth assimilation into your organisation
All requisite ISO 9001 documentation is then developed to create the quality management system (QMS)
Step 3 - ISO 9001:2015 Certification
4 months after the new QMS became operational in your organisation, an ISO 9001

consultant

will visit once more to carry out thorough internal audits on your processes and procedures to ascertain if the system / staff are working effectively in accordance with ISO 9001
The RKMS ISO 9001 consultancy will then hold a review with senior management to consider the findings from the audits which identify deviations from the ISO 9001 standard which need to be rectified
After the new system is deemed in compliance, we arrange for an external assessment of your QMS to be carried out by an assessment organisation certified by UKAS
Once the assessment body are satisfied that your QMS complies with ISO 9001, an official certificate of registration will be awarded which can be used to inform existing clients, identified in tenders and promoted to prospective customers
Key members of your team will also receive Lead Auditor training which confers a the regulated Highfield Awarding Body for Compliance Level 3 Award in Effective Auditing and Inspection (RQF)
ISO 9001 Consulting - The Benefits
The purpose of ISO 9001 consulting is to provide meaningful benefits from its practical standards which cover nearly all sectors of activity including quality management systems, manufacturing, transport, distribution, construction, the environment, mechanical engineering, energy, agriculture, services, information and communication technologies, medical devices and conformity assessment. In  addition our consultants' expertise can minimise your ISO 9001 cost. As for the 9001 quality standard itself, it is globally recognised with more that 1 million companies that are certified to it. And in 2012, the standard reached its 25 anniversary of operation.
ISO 9001 Consultant – Improving Organisational Processes
The 9001 standard for quality management systems defines the requirements that an ISO 9001 consultancy uses for creating, maintaining and managing a quality system in order to manage and control processes to achieve the end goal of better customer service for instance by underpinning the requirements of EN 1090 1. A professional ISO 9001 consultant satisfies more customers by complying their requirements more effectively:
Improving the manner in which an organisation conducts business
– Enables organisations to compete across global markets
– Enhance access to new service users and customers
– Increase the confidence customers have in your organisation
– Reduce rework cost, scrap & waste to minimal levels
– Improve the "bottom line" profitability of the organisation
1. ISO 9001 Benefits For Users & Customers
Users and customers benefit by obtaining services and products which:
– Meet or exceed the requirements for their needs
– Are cost effective
– Are readily available as and when they need them
– Are reliable and dependable
– Are straightforward to maintain
2. ISO 9001 Benefits For Employees
People in organisation can benefit because:
– There is better flow and control of operational processes
– Enhanced health and safety
– Improved "working conditions"
– Enhanced morale
– Better job satisfaction
3. ISO 9001 Benefits For Society
Our society realises the following benefits:
– Greater utility from the products & services it buys
– Compliance with beneficial legal requirements and regulations
– Enhanced health and safety
– Lower environmental impacts
– Improved levels of security
4. ISO 9001 Benefits For Investors & Business Owners
Investors and business owners benefit by getting a greater return on their investment resulting from:
– Obligatory internal reviews and audits
– Improved operational performance
– Greater market share
– Enhanced profit levels
– Improved return on investment