Why First Aid Training is Important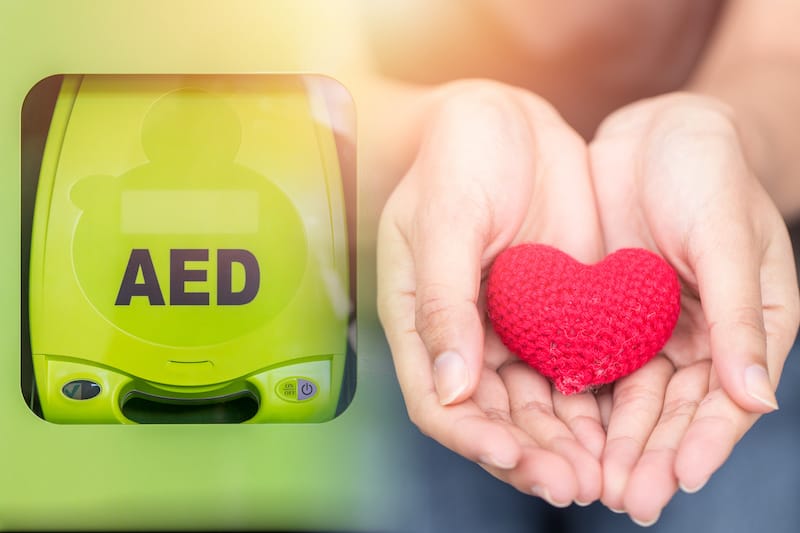 Prior to the great shift towards working from home, the Labour Force Survey (LFS) reported some 581,000 self-reported workplace injuries as well as an additional 69,208 company-reported injuries. 147 of those injuries resulted in workplace fatalities. Despite these surprisingly high numbers, though, this represents a 580% downward turn over the past 50 years.
While better labour practices and regulations are certainly at the heart of this downward shift, it's hard to deny the role that workplace first aid training has played in helping to prevent further on-the-job fatalities. As well as being a legal requirement, workplace first aid training saves lives and promotes a healthier work environment.
For those who doubt the benefits of first aid training, we've prepared a general breakdown of how your company could gain from such preparation. Not only is it affordable and mandated, but it could also save lives.
Why First Aid Training Matters
In the simplest of terms, first aid is any form of emergency medical care given immediately after an accident, injury, or illness. It aims to preserve the victim's life, promote their healing, provide them with necessary emotional support, and prevent the situation from growing more severe than it already is.
Although most workplace injuries are relatively small—such as minor cuts, abrasions, bruises, or burns—first aid still provides the care necessary to keep workers from suffering a long-term injury. Should something more significant happen, employees will also be prepared to provide emergency first aid if needed.
It's simply not enough to keep a first aid box on hand at the office. Even low-risk workplaces could benefit from hands-on, in-depth first aid training to prevent more severe health issues from escalating into a fatality. For example, if an employee were to suffer a heart attack or seizure at work, immediate care could save their life in the time it takes to get them to a hospital.
Legal Requirements for British Employers
Under the Health and Safety (First-Aid) Regulations of 1981, all employers within the UK must provide their employees with adequate and appropriate facilities, equipment, and personnel to guarantee their safety in the event of an accident, injury, or illness. These regulations even apply to the self-employed.
Employers and business owners are required to assess their first aid needs, including what should be included in their first-aid box, whether they require an on-site infirmary, and the number of first aid respondents required to provide satisfactory medical assistance.
While assessing your first aid needs, consider all potential workplace hazards, including chemicals, sharps, heavy loads, electrical hazards, and potential falls. For more information, please read the Health and Safety Executive's pamphlet on workplace first aid requirements.
The Typical Costs of First Aid Training
You'll be surprised to know that training employees in emergency first aid is not only beneficial but also relatively inexpensive. Currently, workplace first aid courses in the United Kingdom cost around £200.00-£300.00 per person. These courses generally take place over three days and train employees to manage:
Workplace hazards
Emergency care
CPR
Heimlich maneuvers
Shock and excessive bleeding
Unconscious or seizing coworkers
Along with treatment plans, workers gain hands-on knowledge of how to assess and react to high-stress situations in a calm and collected manner. With better reaction skills, workers can act safely and protect each other's health in the event of a workplace accident or illness.
After completing their courses, your employees will be awarded certificates of completion, qualifying them in emergency workplace first aid. They can renew their certifications yearly by attending refresher courses to brush up on the skills they learned at their first training.
We offer three different accredited qualifications in first aid training with prices starting at £60 per person.
Benefits of Having First Aid Trained Staff
When it comes to first aid, cost shouldn't be your main concern. Training and employing a staff of first aid responders comes with its own benefits:
First aid saves employees' lives – It should go without saying that providing injured or sick employees with immediate medical care greatly improves their chances of survival. The sooner you begin treating their illness or injuries, the sooner they can heal and return to normal health.
First aid training prevents accidents – By learning about potential workplace hazards, your employees gain a greater understanding of how they can prevent and avoid accidents on the job. They'll also be better able to prevent repeat accidents going forward. Treat first aid training as risk-reduction.
First aid training boosts employee confidence and safety – After completing training, your employees will feel safer and more confident in the workplace knowing that they have the skills to save lives.
Employees learn to properly use a first aid box – You'd be surprised by how few people can accurately detail what goes in a first aid box and how to use those contents. Training introduces employees to the contents of a first aid box and how to appropriately administer those materials.
Employees learn to live safer lives – First aid skills might be taught within the context of work but that doesn't mean they're inapplicable outside of the office. Your employees will be able to apply what they've learned in the real world, at home, and with their families too.
First aid training builds team confidence and company morale – Not only will your employees feel more confident in themselves, but they'll also feel more confident in each other. First aid training builds company morale by encouraging employees to work together and think as a team for the better good.
At first glance, it may seem as if first aid training is limited and offers few actionable benefits but as you examine its outcomes, we believe you'll see that first aid training is more than just a legal requirement—it's an investment in your staff and business.
With more than 30 years of experience in ISO standards, first aid training, and workplace health and safety, we can ensure that worker first aid training is more than it may seem. It can save lives, prevent long-term injury, and improve the overall morale and confidence of your staff. Contact us today for more information on how you can participate in workplace first aid training.
Do you want us to take care of your
fire compliance?
H&S compliance?
ISO certification?
training?
human resources?
At RKMS we are determined to make a business run as efficiently as possible. Will that next business be yours?
Case Study
Services:
ISO 9001, ISO 14001, ISO 45001
Outcome:
Successful certification and increased turnover in excess of 25%
Read More »
Case Study
Services:
ISO 9001, ISO 14001, ISO 27001
Outcome:
UKAS accredited certification and improved efficiency
Read More »
Do you want us to take care of your
fire compliance?
H&S compliance?
ISO certification?
training?
human resources?
At RKMS we are determined to make a business run as efficiently as possible. Will that next business be yours?
Do you want us to take care of your
fire compliance?
H&S compliance?
ISO certification?
training?
human resources?
At RKMS we are determined to make a business run as efficiently as possible. Will that next business be yours?